Things You Should Look for in a Dentist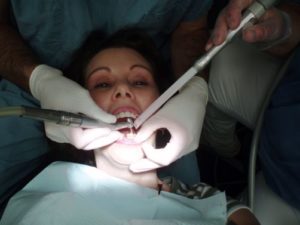 Whether you have moved to McLean from another place or are unhappy with your current dentist, choosing a new dentist is something that has to be done with care. Assessing the practitioner for the right fit to your needs and care ideologies can help build a fruitful, healthy, and lasting relationship. In this regard, here are a few important things to look for when evaluating the McLean dentist.
The experience and license
The experience a dentist has in his/her practice is one of the most important things to consider. A proven track record in their field of specialization can help the practitioner support your family's oral health needs over a long period of time. It helps to have a dentist who offers multiple specialties like preventive care, periodontics, and cosmetic dentistry like orthodontics. This enables you to fix all oral issues at one place rather than having to hope dental offices or clinics around the town. Also, opting for a licensed practitioner ensures that you do not end up in the wrong hands.
The reputation
While experience and license form one part, the other is the dentist's reputation. There are several ways to do this. One way is to ask for a referral. This could be from your current dentist if you're moving from one place to another. A referral could also come from a family member or a friend who has been availing treatment from the dentist that you plan to visit. The internet is also a good place to check for positive and negative reviews about dentists in McLean. Search engines, social media pages, and blogs typically list down reviews and give ratings for dentists based on the feedback from their patients.
Emergency care
Dental emergency, though rare, can occur any time. When this occurs during hours that fall after clinic timings, finding the right doctor can be a tedious task. Having the best dentist who can handle emergency needs is a great plus, but not all practitioners offer emergency dental treatments. However, most of them can refer you to other clinics or hospitals that offer such services, so that you can be in safe hands even in critical situations. For this reason, it is important to know about emergency care provided and the alternatives for the same, in case such services are absent.
Appointment scheduling
Another consideration when choosing a new dentist is the way the clinic accepts appointments. Some of them let you book appointments over a phone call while others insist that you use the scheduling system online. Check with the clinic or what their policies are. Ask whether they accept walk-ins should a need arise. Also, make a not of how they handle after-hour needs and communication – is the doctor available on call, email, or message? See if the dentist can visit children during after-school hours or provide you treatment outside your working schedule. Such services are of great help and assessing them enables to you find a doctor who fits your needs.
The comfort
Last but not least, your visit to the dentist has to be a hassle-free and comfortable one. For this, evaluate how you feel when visiting the clinic, especially when interacting with the staff – are they helpful, do they answer your questions patiently? Also, make a note of the typical wait time – is there a long queue always? Is the doctor able to meet patients on time or without much delay? Do you feel comfortable discussing your concerns with the dentist? Is he/she willing to respond to your questions or fears patiently and positively? All such attributes help in establishing a comfortable bond with your care provider, which is very essential in the long run. These aspects matter not just to you but also all of your family members. Therefore, a dental practitioner that you choose has to be someone who suits not just your needs but also that of your family.
The next time you need to visit a new dentist in McLean, keep in mind the tips mentioned above to find the right care provider quickly and easily.