What is the Importance of Pediatricians?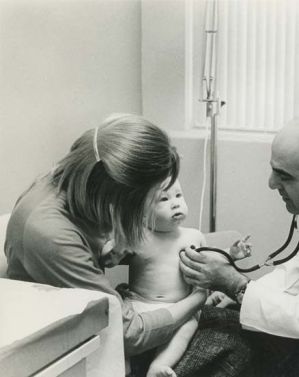 A pediatrician is a specialized type of doctor who takes care of the health of your child, including physical, mental, and behavioral health issues. Pediatricians are trained to diagnose and treat childhood illness, from minor health problems to serious diseases. A pediatrician plays a very important role in the child's life, right from birth to puberty.
What does a pediatrician do?
Pediatricians perform diagnostic tests and administer treatments, vaccinations, therapies, and medications to treat illness. They are concerned with the health of infants, children, teenagers, and adults up to age 18. Let's have a look what can a Gaithersburg MD pediatrician do to take care of your child.
• A pediatrician regularly sees your child many times from birth to age 2, and once every year from the age 2. Your pediatrician performs the physical examination to ensure your child is healthy.
• The main responsibility of a pediatrician is giving vaccination to your child. There is a complete schedule of well-child visits and vaccines. Your pediatrician makes sure that your baby has received all the vaccines at the right time.
• A pediatrician also performs screening for anemia, cholesterol, diabetes, and other allergies based on the child's need.
• Visiting pediatrician is not only about preventive care; your pediatrician also diagnoses and treats your child's illness, injuries, and other health problems.
• Your pediatrician also guides you about the children health, safety, nutrition, and fitness needs. Many parents seek the assistance of pediatrician whenever they need reliable advice.
What are the services offered by pediatricians?
A pediatrician takes care of the overall health of your children. Many parents in the United States are still not aware of the importance of pediatric care in children's life because of a lack of knowledge of pediatric care. Let's have a look at services offered by a pediatrician in Gaithersburg, MD.
Well child visits and vaccines
American Academy of Pediatrics developed a set of comprehensive healthcare guidelines for the preventive care of well-child which focus on promoting good health and development of the child. A pediatrician offers services of well-child visits. Child visits include screening and assessment of the child and vaccination of the child as recommended in the schedule.
Lactation consultation
Breastfeeding is a natural process, but sometimes new mothers and babies have trouble getting started. A certified pediatrician provides the clinical management of the breastfeeding. Breastfeeding is a skill to learn for both new mothers and babies. It takes some time and practice for new mothers and babies to get used to it.
Ear piercing
Pediatricians also offer ear piercing services usually for babies over two months of age who are up to date with vaccines. Ear piercing is a painful process. Pediatricians are trained for ear piercing of infants. They also teach you easy tips to take care of your baby after ear piercing to avoid allergies and infections.
Sports Physicals
Many states require sports physicals for kids before they participate in new sports or activity. Pediatricians examine kids and certify them for participating in a sport or any competitive physical activity. It is necessary to schedule a physical examination to a doctor who knows your child well and his or her medical history.
Travel vaccine
If you are planning to travel abroad with kids, it is advised to have a travel consultation from your pediatrician before you board the flight. It is because in some cases certain vaccines are required for kids depending on where you are planning to go. Pediatricians offered travel consultation and certified to give travel vaccines to kids.
Treatment of child's health issues
Pediatricians are specialized doctors who take care of mental, physical, and emotional health of children. They can treat minor to serious health issues including asthma, allergy, diabetes, and cholesterol. If your child falls sick, you can visit the pediatrician for treatment.
Pediatrician plays an important role in promoting good health and development of newborn babies. If you are expecting a baby in the next few weeks, it is time you should start looking for a pediatrician in Gaithersburg, MD.